The College actively promotes that students develop responsibility for themselves, their peers, and their environment, throughout their six years at the College. As such, at each stage of schooling, students are presented with challenges and opportunities for involvement in a range of formal and informal positions related to Leadership.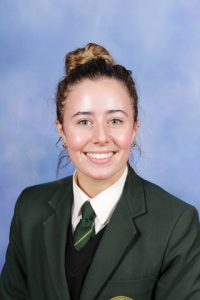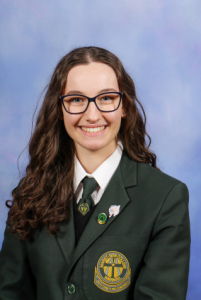 Our 2023 College Captains | Violet Pyle and Alyssa Weir
The formal College Student Leadership structure consists of two College Captains, one male and one female, both of whom are in Year 12, and other leadership positions are available to senior students in Years 11 or 12, who best demonstrate the willingness and the ability to serve the College community.
There are two Captains each for:
Liturgy and Celebration
Academic Diligence
Justice
Sport and Games
Performing Arts
Visual Arts
Applied Learning
In addition to these positions that are related to core activities of the College, there are also sixteen House Captains (two for each House) whose primary responsibility is to promote inclusivity, foster relationships and build House Spirit.
The College also has two Student Representative Council Captains who are responsible for co-ordinating and leading a whole school, student agenda. These two Captains, ordinarily, are from Year 11.  Membership to the SRC is open to students in Years 7 to 11.
All Leadership positions are supported by the College Leadership Team and in particular by a mentor, specifically chosen because of his/her expertise and passion in the area.
In all these areas, but also across informal roles, we aim to give students access to genuine leadership opportunities; opportunities that when grasped will benefit the entire Marist-Sion Community.
At Marist-Sion College, leadership is about service. It is about putting into action a well formed sense of social conscience and simple but powerful Christian values.