Marist-Sion provides a quality education in the Catholic tradition for the young people of Warragul and the surrounding districts. A hallmark of the school is the way the various members of its community – students, staff and parents – work together closely to promote excellence in learning. The College works hard to help each individual recognise their talents and give them a wide range of rich learning experiences so they can achieve their potential.
The College has earned a strong reputation for quality pastoral care of each student, due in significant part to an ongoing relationship with his or her Tutor and Head of House over successive years. This continuity of care helps each unique individual know that they belong, are known, and are genuinely cared for, as we help them to develop confidence and resilience.
As is reflected by our motto, 'Truth, Charity and Constancy,' Marist-Sion places considerable emphasis on helping its students develop qualities of character. As we prepare the young people for an ever-changing world, we seek to empower them with faith, skills, knowledge, attitudes and values which will help them become lifelong learners, to thrive as individuals and enable them to make a difference in their community.
I am confident the College is able to provide challenging and formative experiences for your child, within a happy and purposeful Christian environment.
While this website provides a body of information regarding our offerings, you are invited to speak with us if you have further questions. You are welcome to contact our Enrolment Coordinator, Ms Cassie Kennedy on (03) 5623 5944 or via email
should you wish to make an enquiry.
Mr Peter Houlahan
Principal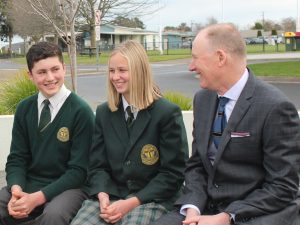 'We aim to educate the whole person, to help them find faith and purpose, call them to embody God's love for others, and so, make the world a better place'