Welcome to the Marist-Sion College website. If you are a first time visitor, I hope the experience gives you a sense of our vibrant learning community and heritage. I hope that you will be encouraged to visit us in Warragul to meet our students and experience the College in operation.
Marist-Sion College has its origins in two Colleges: St Joseph's College (for boys) founded in 1951 and Our Lady of Sion College (for girls) founded in 1905. Since the amalgamation of the two Colleges in 1975, Marist-Sion has been committed to the ideals of the two founding religious orders proclaiming the Gospel and inviting a response in faith; the pursuit of justice, peace and love in the world and the nurturing of a family spirit which is evident in our openness to others, our warmth and kindness.
Situated on one campus of 46 acres, with beautiful views of Mount Baw Baw and the Strzelecki Ranges, the College caters for approximately 1008 students and is accessible by public transport.
Today, Marist-Sion provides a quality education in the Catholic tradition for the young people of Warragul and the surrounding districts. A hallmark of the school is the way students, staff and parents work together to promote excellence in learning. The College works hard to enable each student to recognise their strengths so they can value learning for life and flourish as people. All staff work to ensure everyone in our community is known, valued and safe.
As is reflected by our motto, 'Truth, Charity and Constancy,' Marist-Sion places considerable emphasis on helping its students develop qualities of character. As we prepare the young people for an ever-changing world, we seek to empower them with faith, skills, knowledge, attitudes and values which will help them become lifelong learners, to thrive as individuals and enable them to make a difference in their community.
Importantly, we aim to be a responsive community that promotes positive relationships, connection and belonging.
I am confident the College will provide challenging and formative experiences for your child.
I invite you to discover what sets Marist-Sion College apart from other schools.
Ms Lisa Harkin
Principal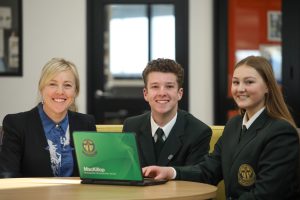 'We aim to educate the whole person, to help them find faith and purpose, call them to embody God's love for others, and so, make the world a better place'