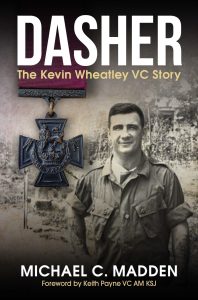 You are warmly invited to attend the world launch of a book 'Dasher' by former MSCW student, Michael Madden, 4pm on Friday 26 November.
If you are interested in attending, please reserve your seats and indicate your attendance by registering here: https://www.trybooking.com/BTACR
​Michael Madden's latest book is about Kevin 'Dasher' Wheatley VC, who was the epitome of an Aussie larrikin, dedicated soldier and the most loyal mate anyone could hope for.
Michael is a former student of the College who has graciously agreed to return to the College for this significant event.
Michael will speak briefly to the students earlier in the day about Dasher, and also about what he has learnt from his own life.
You may like to gain a glimpse of his book, 'Dasher'. I invite you to read the Prologue in the preview pages, available via this LINK